Post Views: 4
If people are like me, they despise unsolicited advice. I'm just a new novelist. However, learning about the publishing process has been quite a challenge. However, I encourage even novice writers to share knowledge because we all have something to offer at every stage of the game.
My first piece of advice is to never give up if writers really want to be successful. Success is measured in various ways. For some it may be making a good living, while for others it involves building a decent fan base. So maybe one way to define failure is to give up writing. I found myself abandoning my dream of becoming a writer for almost a decade of my life. As a child and teenager, I convinced myself that publishing a book was my top priority. But when my ex-husband shattered those dreams with his clever way of destroying my self-esteem, I gave up.
One day, a friend was talking about publishing her memoirs and envy burned inside me. Embarrassed, I controlled myself. I realized that I had done little or no work in trying to get my writing published. With renewed motivation, I told myself that I would do whatever it took to get my latest book published. I didn't care if I had to rewrite it or keep sending it to numerous publishers and agents. I didn't care if I had to write another book and try to get that one published. Six months later, I sent my book to about fifty agents and publishers. A month later, I sent it to another fifty. Three months later, I received my first publishing contract.
Too often on social media, I read posts from writers who want to bury their manuscript. This industry is very subjective, and when submissions are read by publishers, it's usually just one person who rejects them. A! That's just one opinion in the world. Also, many successful authors experienced rejection. Rejections are harsh and sometimes demoralizing, but my advice is don't let them discourage writers. I like to tell others who are struggling that their book hasn't found the right place yet.
Next, I would encourage authors who are less confident in grammar to invest time in professionally editing their work or learning the rules behind grammar. Manuscripts don't have to be perfectly written, and I certainly appreciate the edits I received from my publisher. I value editors much more after seeing how much they can help me improve my work. However, publishers expect submissions to demonstrate a certain level of grammar and be relatively free of typos. I've read novels that I absolutely adore but that are full of typos and grammatical errors. I hate to see such wonderful work scrapped due to these issues. Reedsy offers editing services at fairly reasonable prices (publishers charge different rates). I have used Reedsy to help me with my query letters and advertising notes and I am satisfied. So I don't want to see anyone's great storytelling come to a halt because of writing issues like these.
Lastly, I would advise writers to do whatever it takes to get their work across to readers. For those with money to invest, there are companies that can help with promotion. However, promoting a book doesn't have to cost a lot of money. Since my novel is set in Montana, I plan to travel around the state to read books at public libraries or any other bookstore that will accept me. I think small venues can appreciate authors who host events there. For me, there is no place too big or too small. Building a dedicated fan base can mean giving readers that personal touch of knowing the writer. Additionally, writers might consider setting up a booth at local community events to promote their books. I was lucky enough to have funds to invest in book promotion, but I also plan to use small venues to share my work.
This is my humble advice to share with other writers. As writers, I think we can all learn from each other's experiences. My final words would be to always support fellow authors, traditional or self-published. We do this because we love books and telling stories. I appreciate all the blogs and author groups that have given me a home and some good advice. Let us remember that we are a community.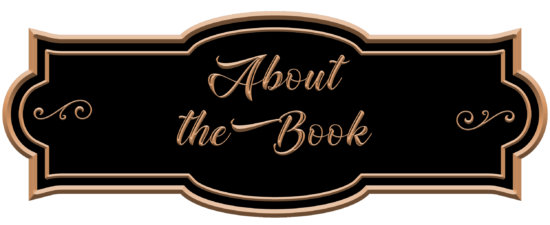 Publication date: July 5, 2022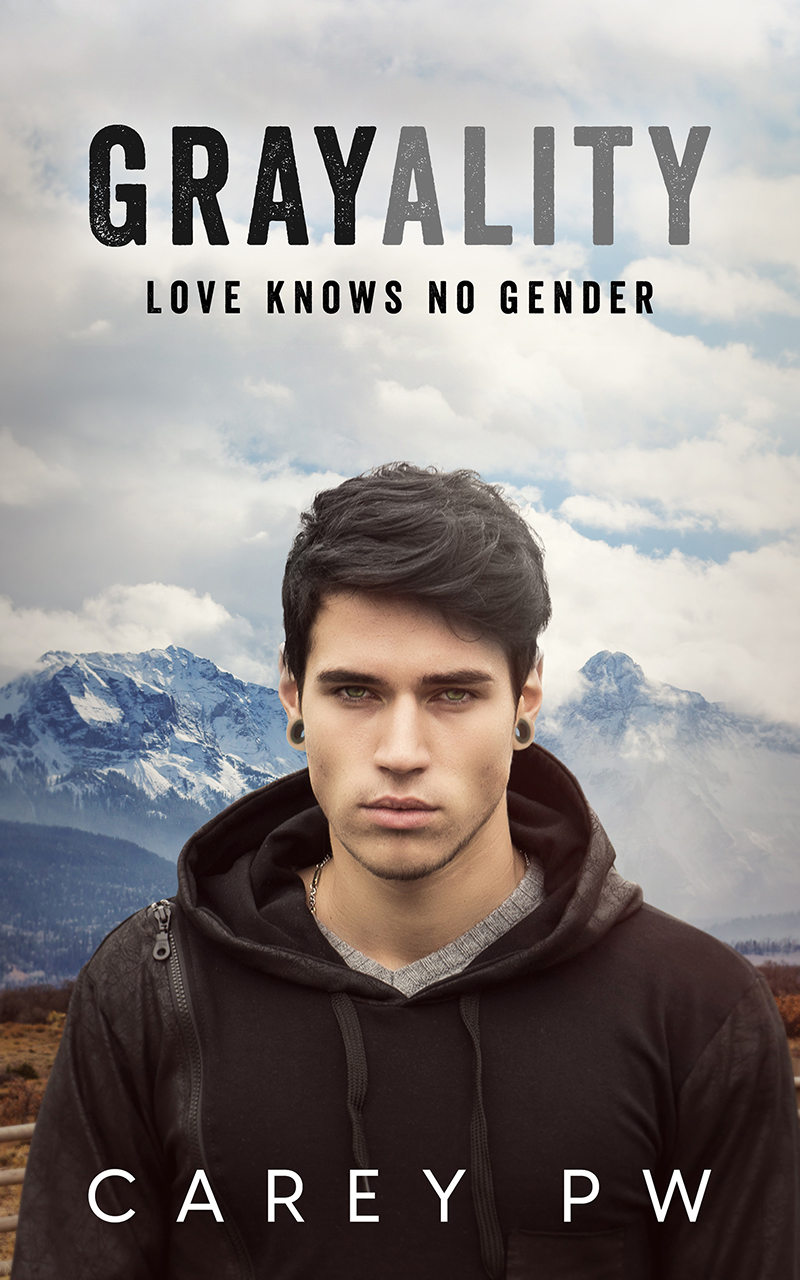 Love knows no gender.
Twenty-six-year-old transgender man Pate Boone embarks on a new adventure when his childhood best friend, and yes, ex-lover, Oakley Ogden, convinces him to escape his hometown in hopes of something new.
They land in Cloverleaf, a small rural town in Montana, so Oakley can care for her grandmother who is battling breast cancer. She pressures the two young men to enroll in a nearby university. Pate is immediately captivated by Maybelle, a vivacious young freshman to whom he fears revealing her transgender identity. Still, he finds it impossible to resist Maybelle, even after meeting her ex, Bullet, a big, violent man determined to keep Pate away from "his girl of hers" from her.
But there are others who accept Pate immediately, like Stormy. Stormy, a rugged, outdoorsy freshman, warns Pate to stay away from Maybelle and Bullet, but Pate is too infatuated to heed these warnings.
Oakley tries to support his friend's new love, but finds himself embroiled in his own emotional calamity when he inadvertently falls for Jody, a flamboyantly confident gay drag queen. This new relationship sparks deep inner conflicts in Oakley as she struggles to accept his bisexuality, lashing out at Pate and causing friction between him and Jody.
Oakley must decide if she can overcome her insecurities so she doesn't lose the love of her life. And Pate must discover if the love between him and Maybelle is strong enough for her to accept him as a transgender man, or if she will break his heart.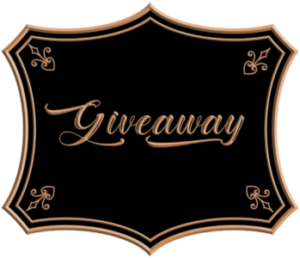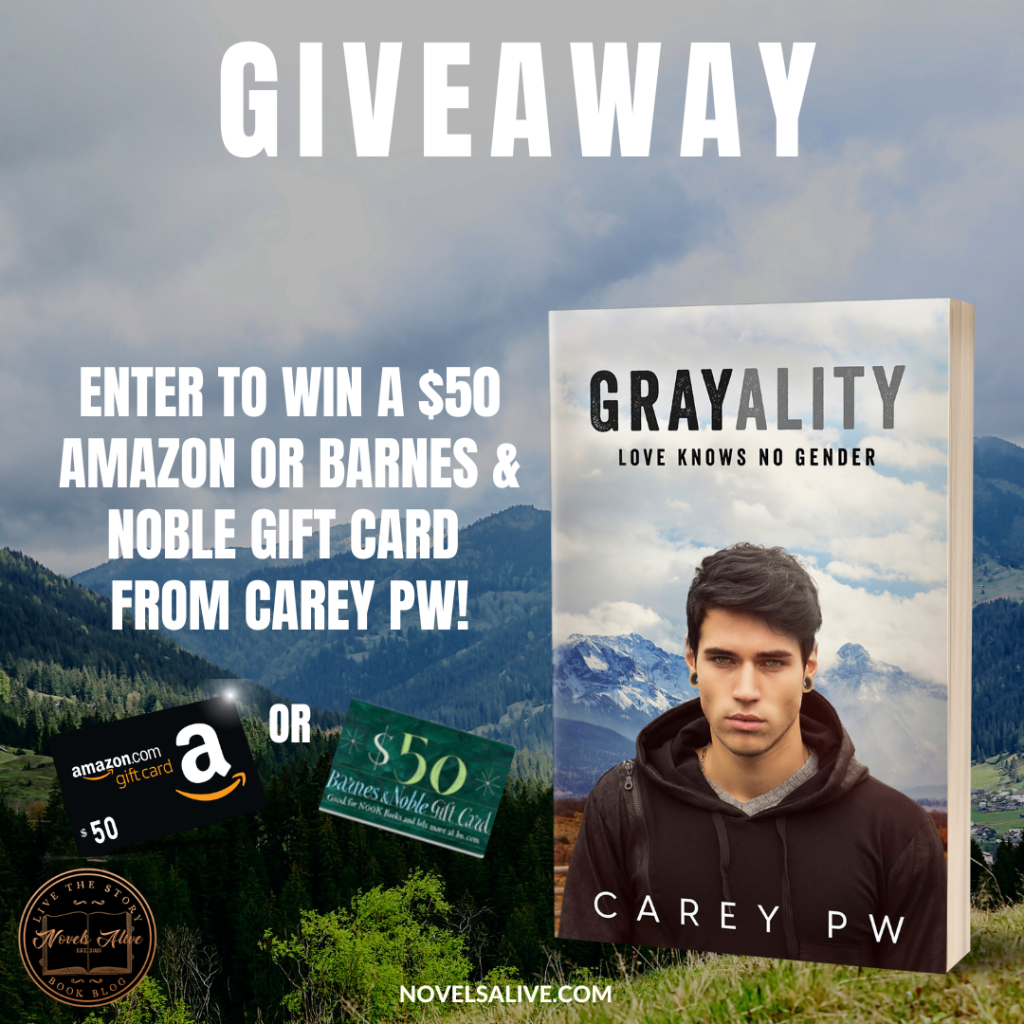 One winner chosen randomly through Rafflecopter will win a $50 Amazon or Barnes & Noble gift card.
a Rafflecopter giveaway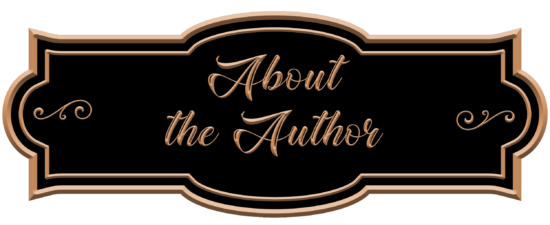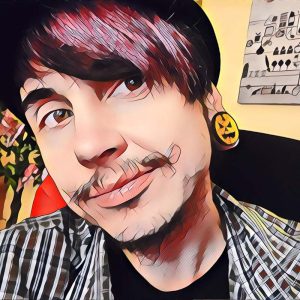 Carey P.W. (he/they) is a beginning author, university professor, and mental health counselor. Carey is currently completing his next manuscript, playing the game.
Carey lives in Montana and identifies as nonbinary, transmasculine (AFAB), and panromantic asexual. Due to a lack of resources in rural communities, Carey has found that writing about her lived experiences is a therapeutic outlet for him and he hopes his readers will relate to their own shared personal struggles and triumphs through his characters' narratives. . Carey is particularly interested in exploring relationship conflicts around sexuality and gender differences. She has also worked as a high school writing instructor and a college writing instructor, earning a BA in English Literature, an M.Ed. in English Education, and Ph.D. in Social Foundations of Education, all from the University of Georgia. In 2020, Carey earned her second M.Ed. in Counselor Education and works as a Licensed Professional Clinical Counselor, LCPC. She has a great passion for working with the unique mental health issues of the LGBTQIA+ community.
Readers can learn more about Carey on her blog, www.careypw.com. When she's not writing, Carey is busy training for marathons, taking care of her six cats, sharing her culinary talents on social media, serving on the board of the nonprofit Center for the Study of the Person (CSP), profit and learning photography.

August 2: Viviana MacKade
August 4: Addicted to Bayou Books
August 9: Mom says: to read or not to read
August 11: The Avid Reader
August 16: FUONELYKNEW
August 18: Books to light your fire
August 23: It rains books
August 25: Sandra's Book Club
August 30: Beyond Romance
September 1: Lisa Haselton Reviews and Interviews
September 6: Lovely Reviews – review only
September 8: Fabulous and Brunette
September 13: Words of Wisdom from The Scarf Princess
September 15: all the ups and downs
September 20: The Fairies Review
September 22: DS Dehel
September 27: natural bri
September 29: Wendi zwaduk – romance to make your heart race
Oct 4: Archaeolibrarian – I dig up good books! – revision
October 6: Wake up your wild side
October 11: BooksChatter
October 13: Compass Books by Moonlight
October 18: Romance Novel Giveaways
October 20: Iron Canuck Reviews and More
Oct 25: Author CAMilson
October 27: The key of love
November 1: Blog by Author Deborah A. Bailey
November 3: Long and short reviews
November 8: Westveil Post
November 10: Novels alive