There's really nothing quite like freshly baked cookies. You'll love this semi-homemade Kitchen Sink Cookie recipe because it is quick, easy and uses up those odds and ends you have hanging around. The magic all starts with a bag of Snickerdoodle Cookie Mix.
With so many yummy ingredients, everyone is bound to love something about them!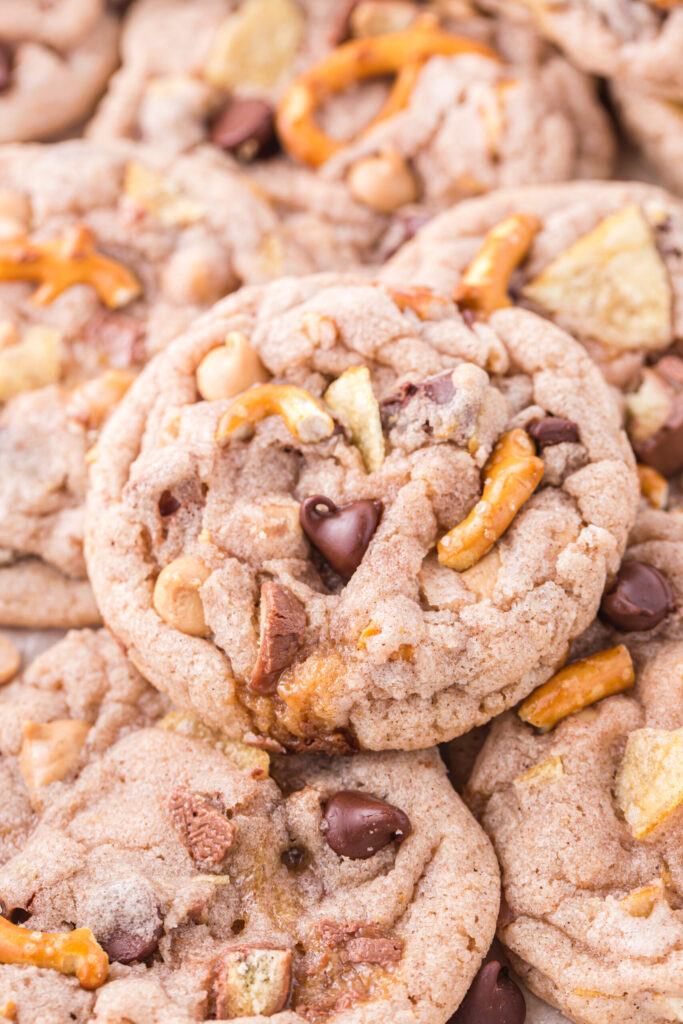 KITCHEN SINK COOKIES RECIPE
Learn how to make the best semi-homemade kitchen sink cookies using a Snickerdoodle cookie mix base. This easy recipe is super flexible and a lot of ingredients can easily be swapped out to accommodate ingredients you have on hand.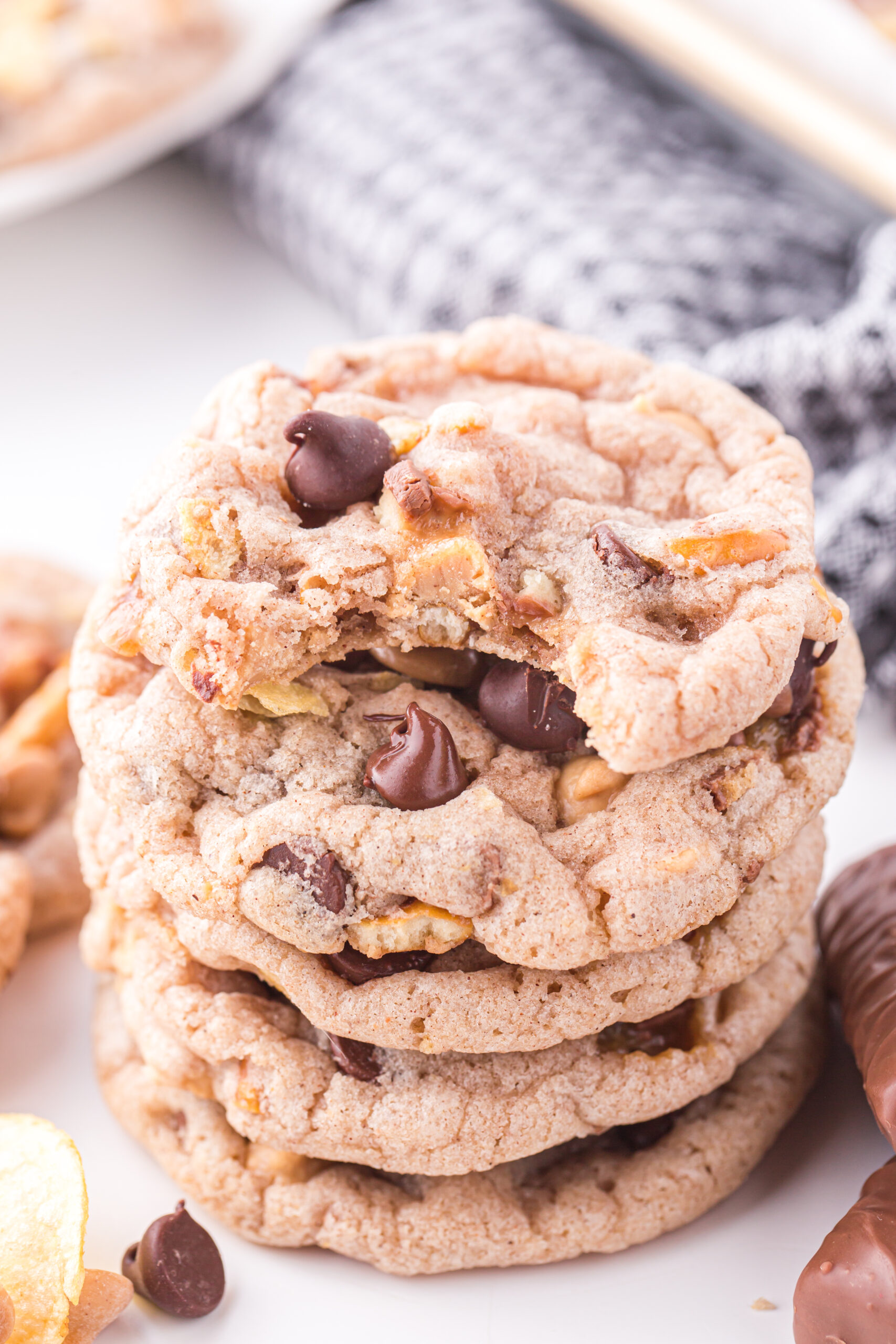 They are called "kitchen sink" because they have pretty much everything but the kitchen sink in them. Basically a silly play on the old saying. Some may even refer to these as everything but the Kitchen Sink Cookies as well.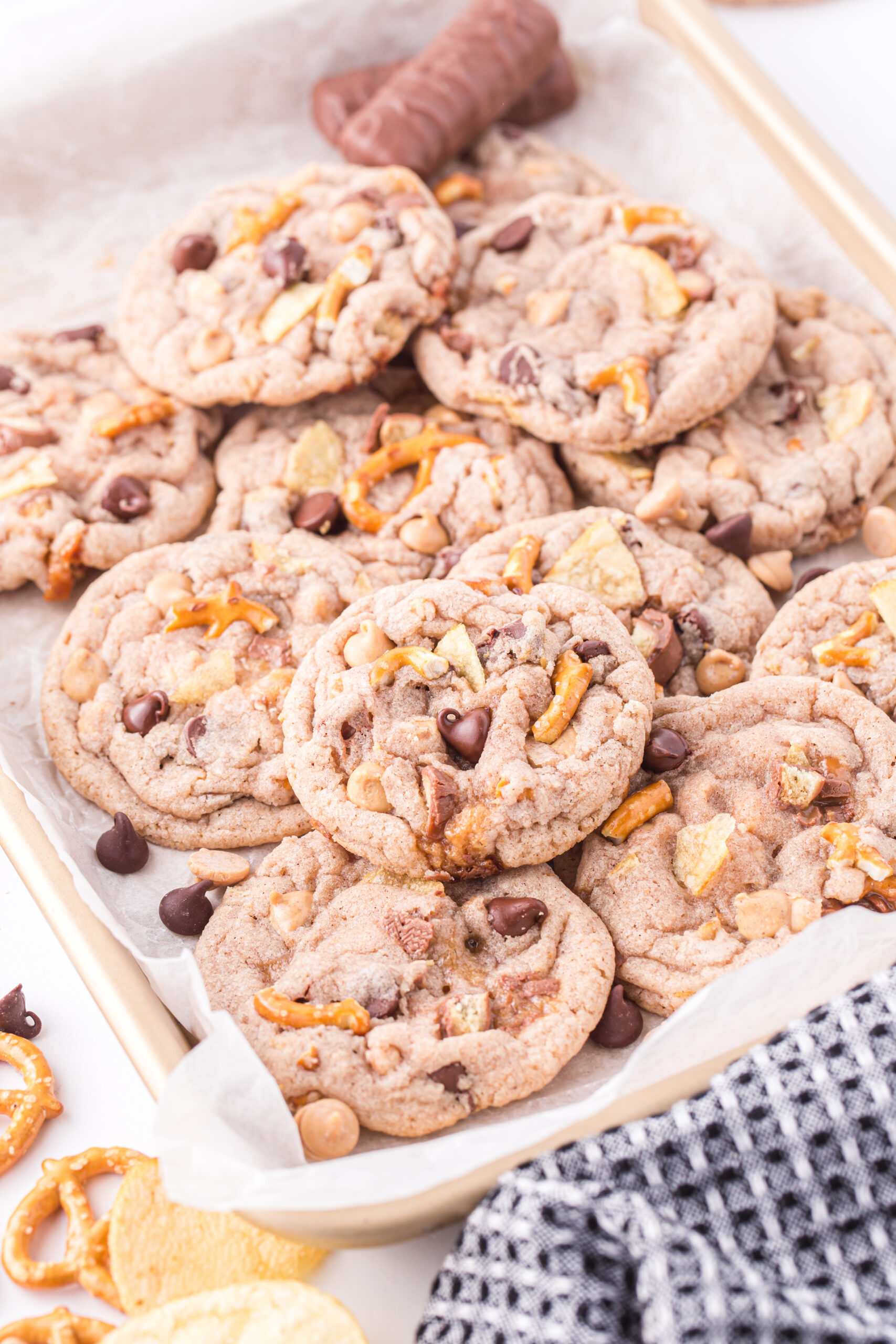 These kind of cookie recipes are also fondly referred to by some as Compost Cookies and Garbage Cookies. The names are silly, but I promise they taste nothing like actual trash cookies. 😛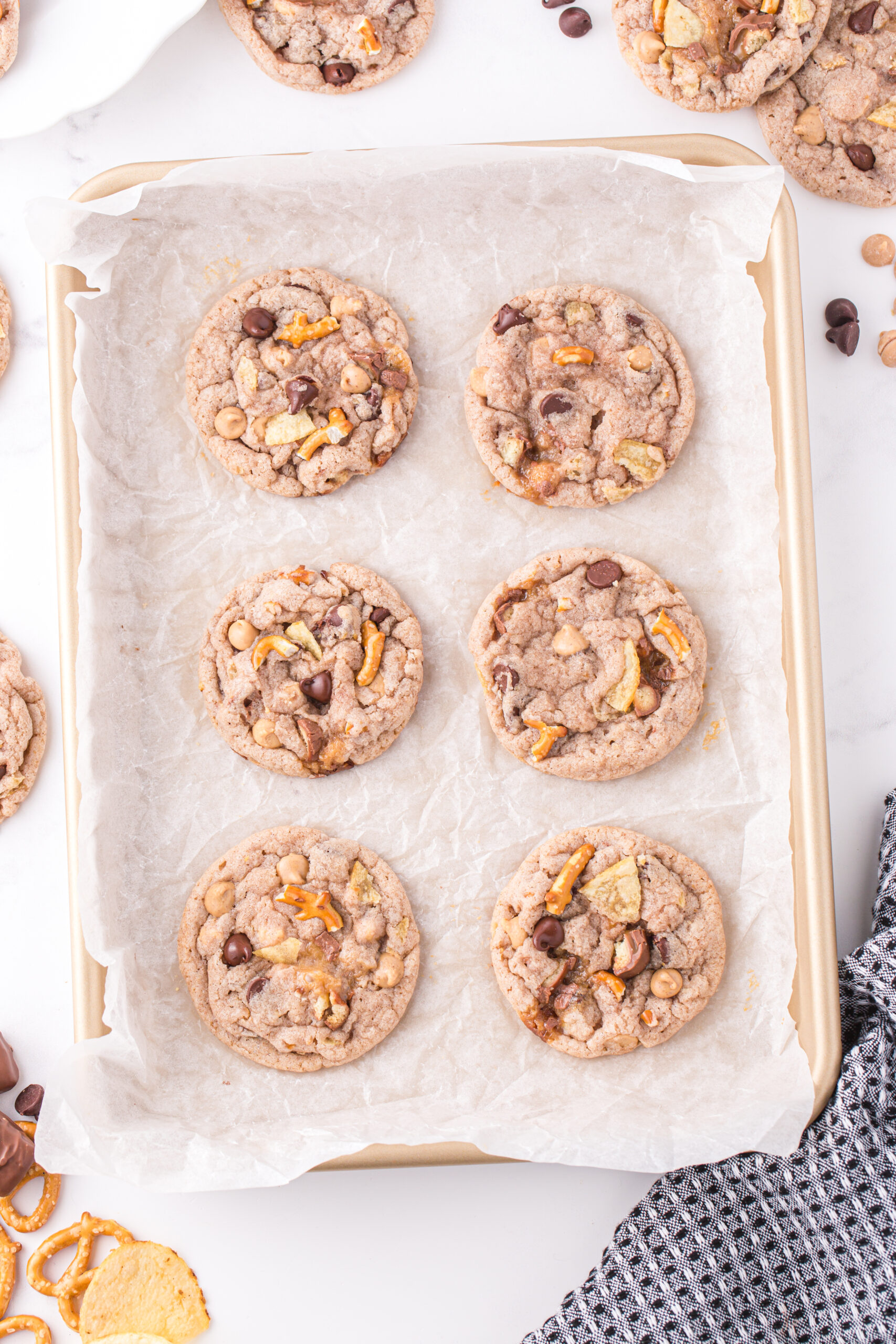 This batch of dough makes about 48 standard cookies.
INGREDIENTS FOR KITCHEN SINK COOKIES
With just a handful of simple ingredients that you may have on hand, you can whip up a batch of these amazing cookies. You can easily swap them and play around depending on what you have on hand and what you prefer.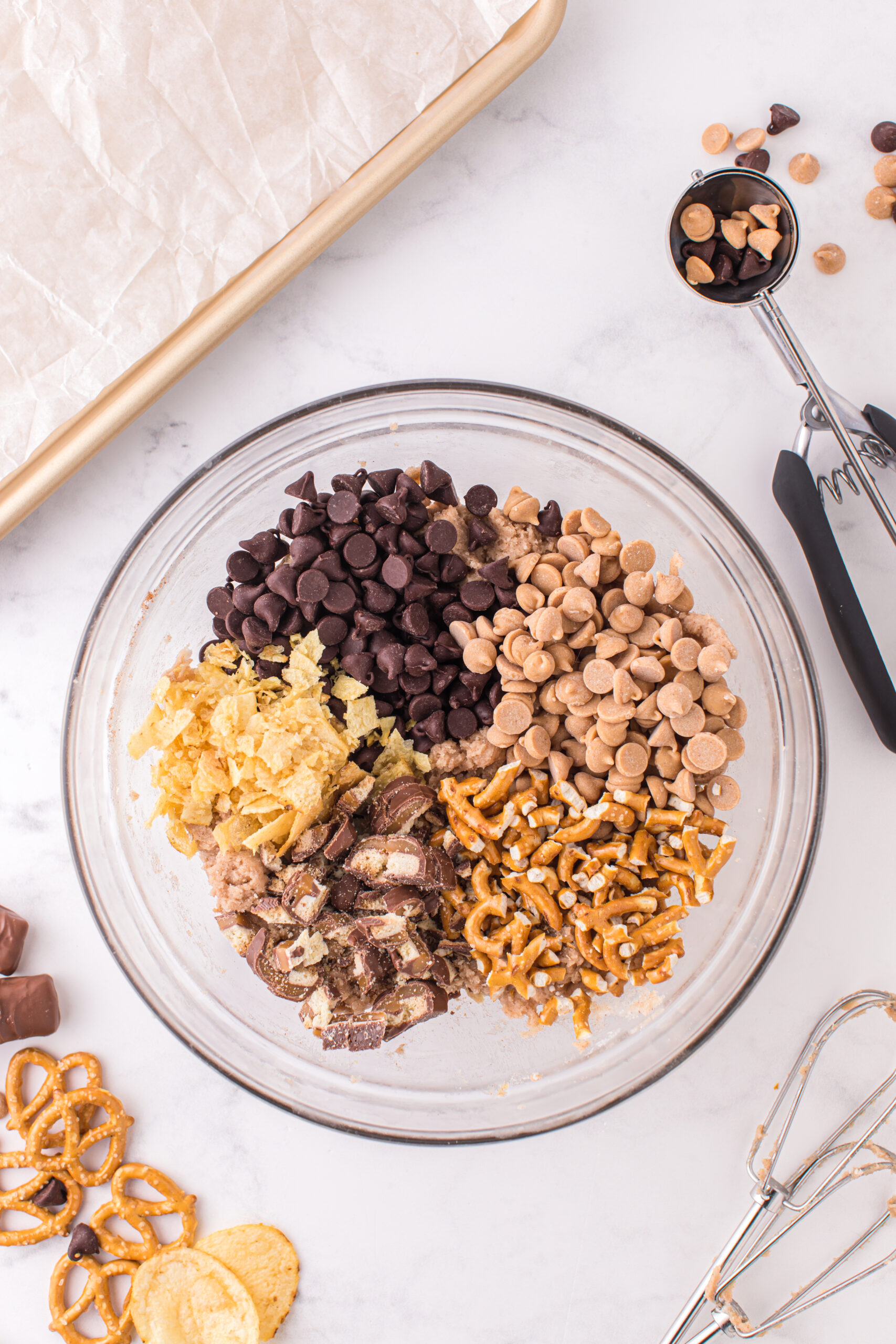 Here are the ingredients used to make the cookies:
Snickerdoodle cookie mix: Any snickerdoodle cookie mix will come with a cinnamon sugar packet, however you can also use a sugar cookie, chocolate chip cookie or peanut butter cookie mix instead. In those cases you can omit the cinnamon sugar or simply add 1 teaspoon of cinnamon to include the flavor.
Salted butter: You can use unsalted butter if you prefer. This recipe includes various salted ingredients so the salt isn't completely necessary.
Large egg
Semi-sweet chocolate chips: If you prefer to use milk chocolate, white chocolate, or dark chocolate chips, any of them will be wonderful.
Peanut butter chips: Peanut Butter chips can be difficult to find, so feel free to use butterscotch chips instead.
Pretzels
Twix candy: Choose your favorite type of candy bar as a substitute. I recommend Snickers, Butterfingers, or Milky Way.
Potato chips: I used original Lays chips, but you can use whichever is your favorite type of potato chips.
Be sure to scroll down for the exact measurements and to print the recipe in its entirely.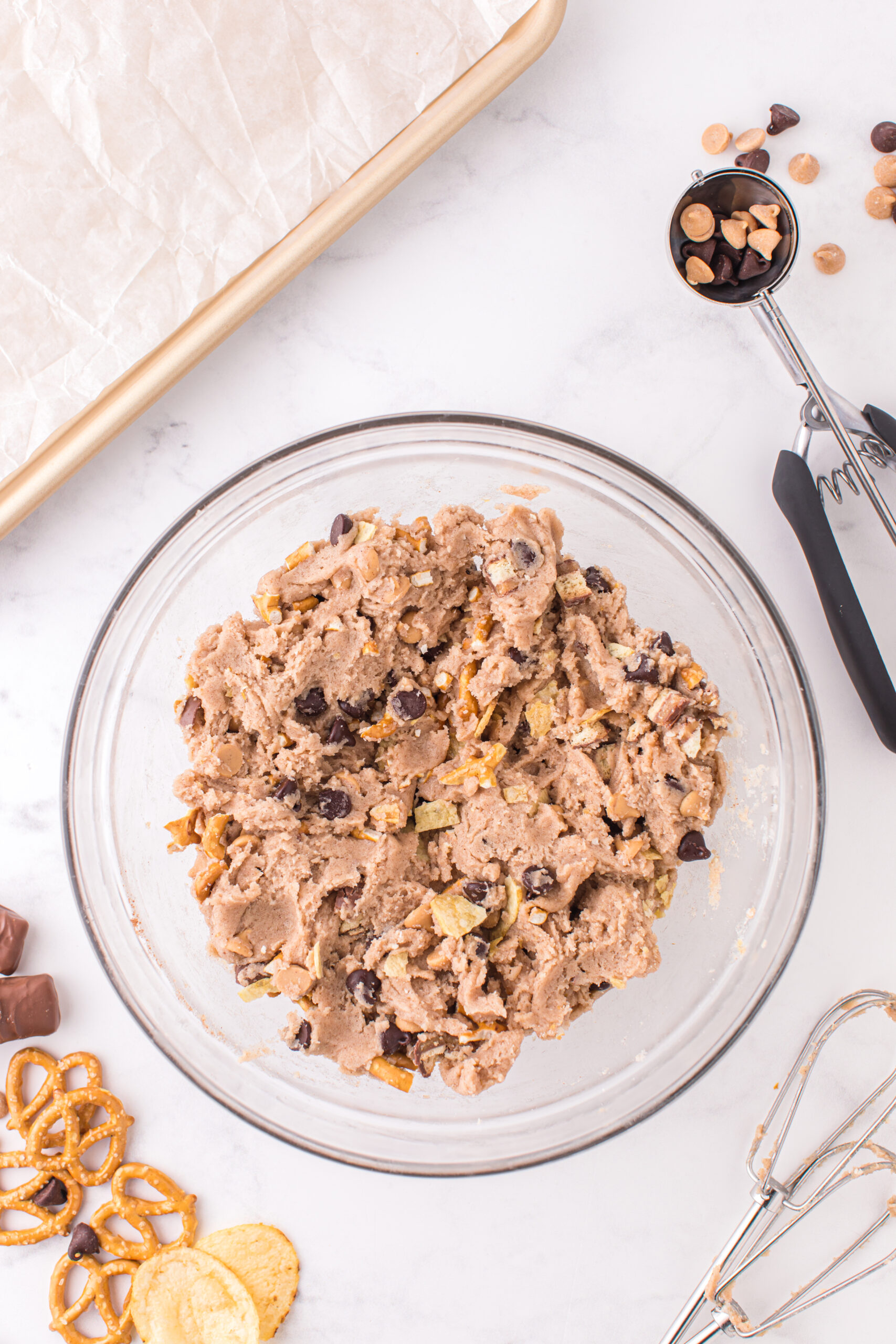 Here are the supplies used:
Hand or stand mixer
Mixing bowl and tools
Measuring tools
Cookie sheet
Feel free to be creative with these cookies.
HOW DO I STORE THESE COOKIES?
You can store these for up to a week at room temperature in an airtight container. They will keep slightly longer in the refrigerator. You can also freeze them and they will be good for a few months.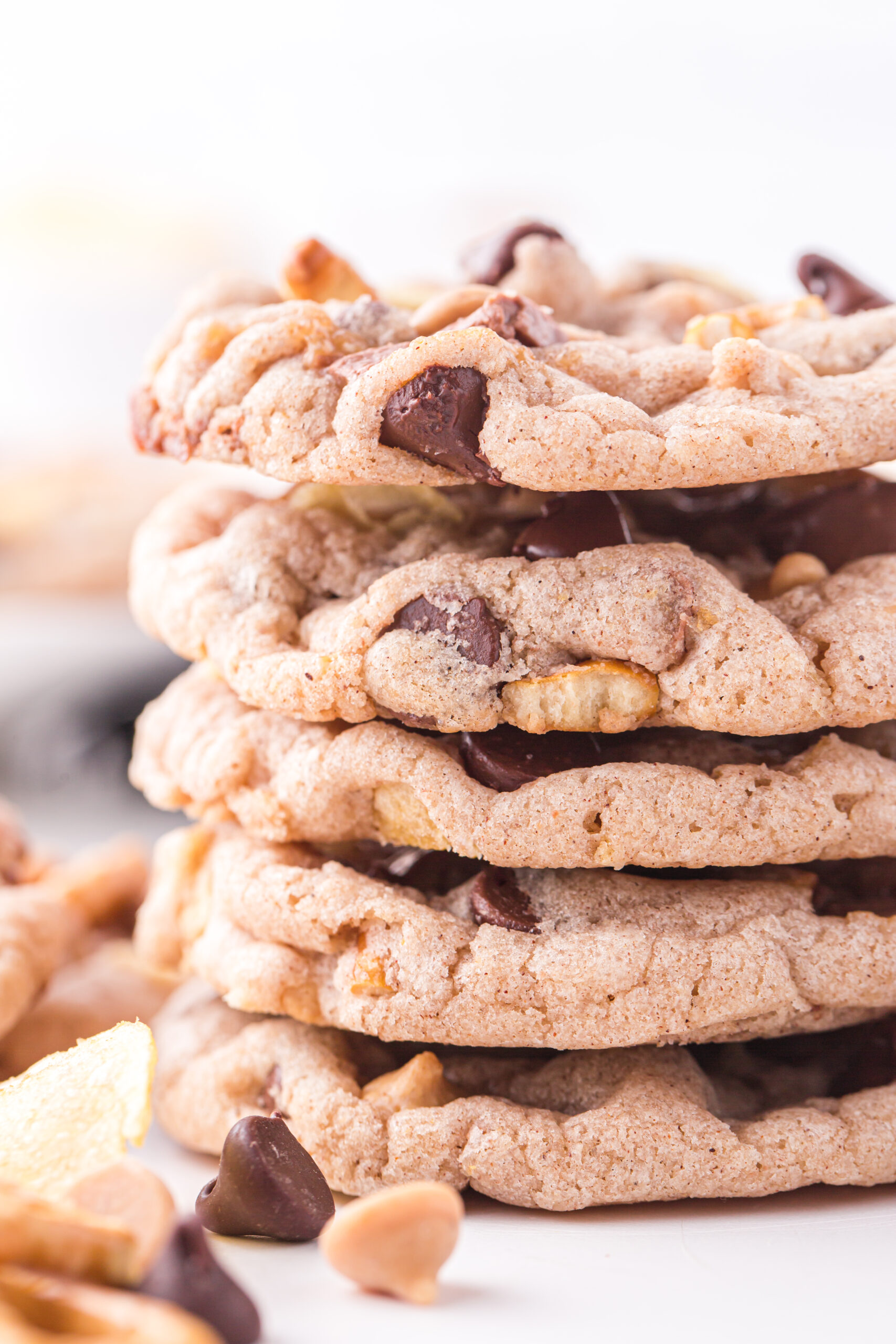 I recommend bringing them to room temperature before eating after being frozen. For warm, gooey cookies you can even microwave them for a few seconds before enjoying them.
WHAT CHANGES CAN I MAKE TO THESE KITCHEN SINK COOKIES?
The beauty of Kitchen Sink Cookies is that they are literally designed to use up the odds and ends in your pantry.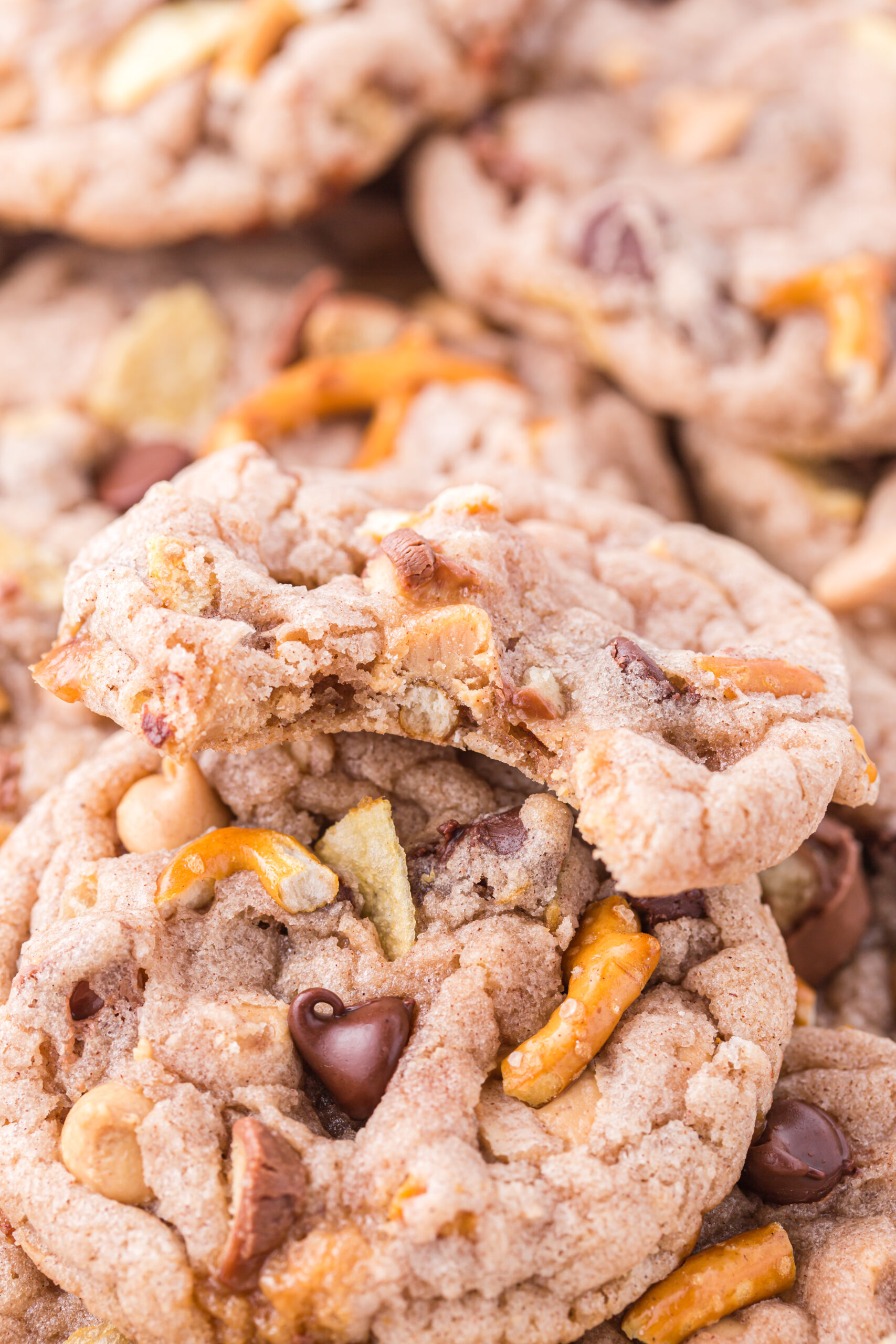 Have a few handfuls of nuts or a half eaten container of mini M&Ms? Throw them in!
Wanting to use up the crumbs of potato chips so that you can open a new bag without guilt and enjoy an actual crunch? In they go!
I love to go through my pantry and find all the sweet and salty bits that I have been wanting to get rid of and put them all in these cookies.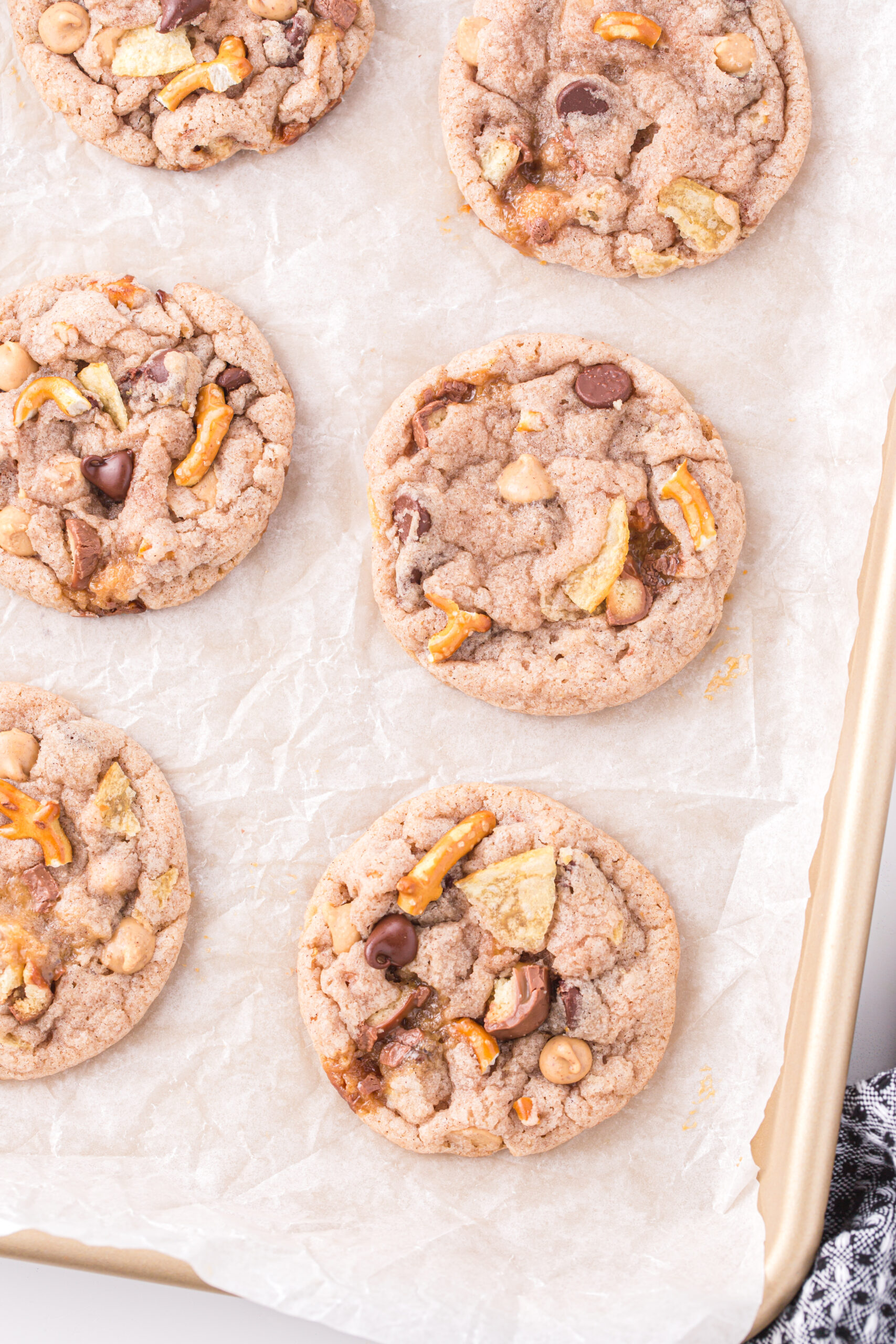 The snickerdoodle base gives this cookie a soft, chewy texture but you can also use a sugar cookie mix, chocolate chip cookie mix or even a peanut butter cookie mix with great results!
I love the fact that I can make these cookies over and over and never have to worry about whether they will turn out good or not!
If you love Peanut butter chip cookies with pretzels, you will adore this delicious twist.
Ingredients
1 (17.9 ounce) bag snickerdoodle cookie mix with cinnamon sugar packet

½ cup (1 stick) salted butter, softened

1 large egg

2 Tablespoons water

½ cup semi-sweet chocolate chips

½ cup peanut butter chips

¼ cup crushed pretzels

¼ cup Twix candy, roughly chopped (~2-3 mini twix bars)

¼ cup roughly crushed potato chips
Instructions
Preheat the oven to 350 degrees Fahrenheit and prepare a sheet pan by lining it with parchment paper or grease it with cooking spray.
Use a stand or hand mixer to beat the cookie mix, ¼ – ½ of the cinnamon sugar packet (discard the rest), salted butter and egg together in a large mixing bowl until they form a soft dough.
Fold in the semi-sweet chocolate chips, peanut butter chips, pretzels, Twix candy, and potato chips.
Use a 1 inch cookie scoop to scoop out the dough into balls and place them on the sheet pan, 2 inches apart.
Bake for 11-14 minutes or until they just begin to brown at the edges and let cool before enjoying.
Notes
If you do not prefer any cinnamon flavoring in your cookies, you can simply discard the cinnamon sugar packet completely or use it for a different recipe. I don't recommend using the entire packet and only using ¼ – ½ of the packet because it can be a little too much flavoring with the whole packet.